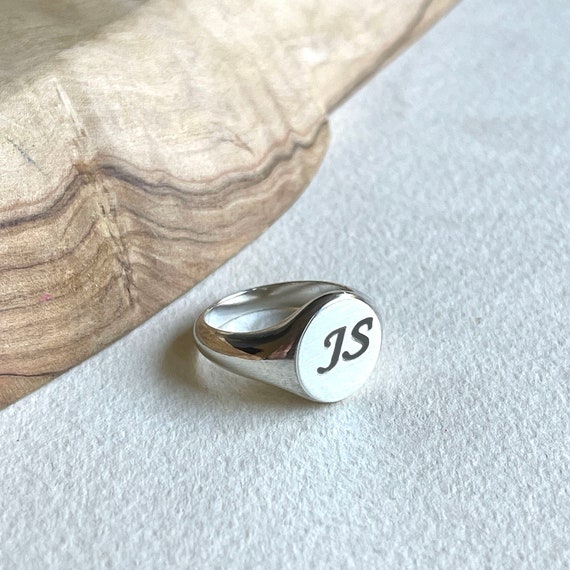 103.59 CAD
Dainty Sterling Silver Signet Ring For Women And Men( Unisex). This Solid Silver ring can be engraved especially for your loved ones. you can personalize the ring by engraving an initial, letter, or sign. We can engrave your personalized initial, sign, name, character, or word on the ring. This is a stylish and unique gift for everybody. It's a unisex ring.
Detail:
Material: Sterling silver( 925 silver)
Size of the circle on top of the ring: 12mm
Ring size: 7 US/CA
Process:
These rings are handmade. For this size, we have mold so we cast a ring in silver. After cleaning and polishing, they are ready to go.
H O W ∙ TO ∙ O R D E R
• step one: type you're initial in the customization box below (optional)
• step three: add to cart
————————————————————————————-
SHIPPING :
Canada Free Shipping By Regular Mail (No Tracking No Insurance)
Upgrades With Tracking Available To Purchase
USA Tracked Packet Only (Free Shipping Above $35 Usd)
————————————————————————————-
RUSH ORDERS :
ADD THIS ITEM TO YOUR CART AND PURCHASE IT WITH YOUR ORIGINAL ORDER.
YOUR ORDER WILL BE SHIPPED OUT WITHIN 1-2 BUSINESS DAYS> 🙂
PLEASE CLICK ON THE LINK BELOW
https://etsy.me/3PZ0UJZ
————————————————————————————-
What Is Sterling Silver?
Sterling Silver Is A Type Of Silver Alloy That Is 92.5% By Weight Of Silver And 7.5% By Weight Of Some Other Metal, Usually
————————————————————————————-
A B O U T: SILVERJEWELER.CA
• https://etsy.me/3CIgWoT
O U R ∙ P O L I C I E S
https://www.etsy.com/ca/shop/SaraJewelleryShop#policies
M O R E ∙ F R O M ∙ U S
https://www.etsy.com/shop/SaraJewelleryShop
I N S I D E ∙ S C O O P
• IG: https://www.instagram.com/silverjeweler.ca
• FB:https://www.facebook.com/Silverjewelercanada
Thank you so much for visiting and I hope you enjoy shopping with us ♡
✔SILVERJEWELER.CA♡
———————————————-
• All images are copyrighted by SILVERJEWELER.CA All rights reserved •®