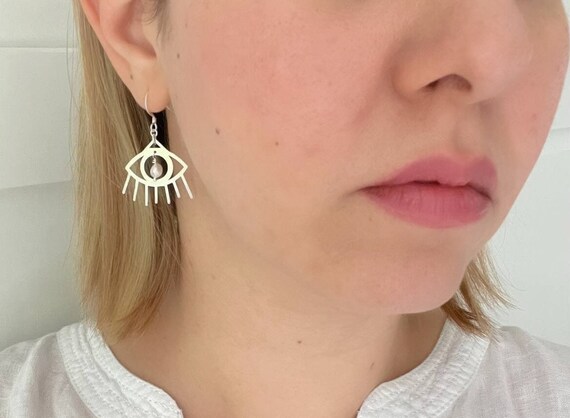 61.59 CAD
Sterling silver Devil eye earrings with white Freshwater pearls, cute and durable, easy to wear.
What are Freshwater pearls? they are farmed and created using freshwater mussels. Each mussel can produce up to 50 pearls at a time. When the pearls are treated,
they are drilled, then polished with a mixture of cornmeal and wax, and they become ready.
D E T A I L S
• pearl: white pearls
• size of the pendants: width: 1″ & drop length: 1.25″
————————————————————————————-
SHIPPING :
Canada Free Shipping By Regular Mail (No Tracking No Insurance)
Upgrades With Tracking Available To Purchase
USA Tracked Packet Only (Free Shipping Above $35 Usd)
————————————————————————————-
RUSH ORDERS :
ADD THIS ITEM TO YOUR CART AND PURCHASE IT WITH YOUR ORIGINAL ORDER.
YOUR ORDER WILL BE SHIPPED OUT WITHIN 1-2 BUSINESS DAYS> 🙂
PLEASE CLICK ON THE LINK BELOW
https://etsy.me/3PZ0UJZ
————————————————————————————-
What Is Sterling Silver?
Sterling Silver Is A Type Of Silver Alloy That Is 92.5% By Weight Of Silver And 7.5% By Weight Of Some Other Metal, Usually
————————————————————————————-
A B O U T: SILVERJEWELER.CA
• https://etsy.me/3CIgWoT
O U R ∙ P O L I C I E S
https://www.etsy.com/ca/shop/SaraJewelleryShop#policies
M O R E ∙ F R O M ∙ U S
https://www.etsy.com/shop/SaraJewelleryShop
I N S I D E ∙ S C O O P
• IG: https://www.instagram.com/silverjeweler.ca
• FB:https://www.facebook.com/Silverjewelercanada
Thank you so much for visiting and I hope you enjoy shopping with us ♡
✔SILVERJEWELER.CA♡
———————————————-
• All images are copyrighted by SILVERJEWELER.CA All rights reserved •®