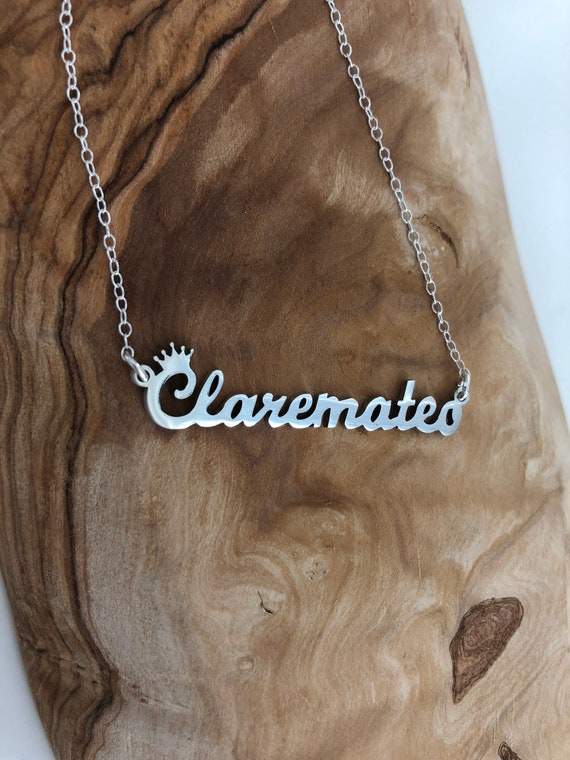 46.95 CAD
One of our recommendations for gift is our personalized name necklaces. They are very cute and comfortable. They are the best choice for everyday use. You can choose your chain's length in customization box.
+ Beautiful Comfortable necklaces Crafted with Love ♡
+ gift-giving ready in its own box tied with ribbon
D E T A I L S
• the Pendant height is 9 mm and the width is different based on the number of letters.
• the material of the necklaces are Sterling Silver .925
• the chain length for the necklace is 16″ (the models are wearing a choker length at 18″. if you would like to change the standard length of18″ please leave your length preference in the note to seller)
• the chain is Sterling Silver .925
* The maximum letter that we accept for this necklace are 10 letters
H O W ∙ TO ∙ O R D E R
• step one: choose the number of necklaces you want
• step two: add the letters that you want in the customization box
• step three: add to cart
M A K E ∙ IT ∙ U N I Q U E
Have something extra special and unique in mind? We love custom orders and helping bring your ideas to life. we can help you make your special necklace
exactly as you want it. Send us a message and we're happy to help.
————————————————————————————-
SHIPPING :
Canada Free Shipping By Regular Mail (No Tracking No Insurance)
Upgrades With Tracking Available To Purchase
USA Tracked Packet Only (Free Shipping Above $35 Usd)
————————————————————————————-
RUSH ORDERS :
ADD THIS ITEM TO YOUR CART AND PURCHASE IT WITH YOUR ORIGINAL ORDER.
YOUR ORDER WILL BE SHIPPED OUT WITHIN 1-2 BUSINESS DAYS> 🙂
PLEASE CLICK ON THE LINK BELOW
https://etsy.me/3PZ0UJZ
————————————————————————————-
What Is Sterling Silver?
Sterling Silver Is A Type Of Silver Alloy That Is 92.5% By Weight Of Silver And 7.5% By Weight Of Some Other Metal, Usually
————————————————————————————-
A B O U T: SILVERJEWELER.CA
• https://etsy.me/3CIgWoT
O U R ∙ P O L I C I E S
https://www.etsy.com/ca/shop/SaraJewelleryShop#policies
M O R E ∙ F R O M ∙ U S
https://www.etsy.com/shop/SaraJewelleryShop
I N S I D E ∙ S C O O P
• IG: https://www.instagram.com/silverjeweler.ca
• FB:https://www.facebook.com/Silverjewelercanada
Thank you so much for visiting and I hope you enjoy shopping with us ♡
✔SILVERJEWELER.CA♡
———————————————-
• All images are copyrighted by SILVERJEWELER.CA All rights reserved •®