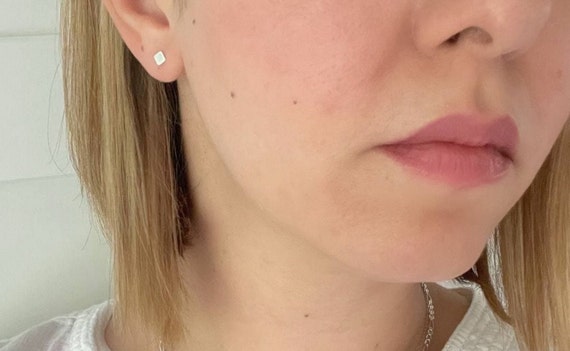 30.09 CAD
square Sterling silver studs earrings with butterfly back. These simply yet stunning studs are perfect for everyday use. They are tiny, light and easy to wear. The earrings come in pairs.
M A K E ∙ IT ∙ U N I Q U E
Have something extra special and unique in mind? We love custom orders and helping bring your ideas to life. we can help you make your special earrings
exactly as you want it. Send us a message and we're happy to help.
————————————————————————————-
SHIPPING :
Canada Free Shipping By Regular Mail (No Tracking No Insurance)
Upgrades With Tracking Available To Purchase
USA Tracked Packet Only (Free Shipping Above $35 Usd)
————————————————————————————-
RUSH ORDERS :
ADD THIS ITEM TO YOUR CART AND PURCHASE IT WITH YOUR ORIGINAL ORDER.
YOUR ORDER WILL BE SHIPPED OUT WITHIN 1-2 BUSINESS DAYS> 🙂
PLEASE CLICK ON THE LINK BELOW
https://etsy.me/3PZ0UJZ
————————————————————————————-
What Is Sterling Silver?
Sterling Silver Is A Type Of Silver Alloy That Is 92.5% By Weight Of Silver And 7.5% By Weight Of Some Other Metal, Usually
————————————————————————————-
A B O U T: SILVERJEWELER.CA
• https://etsy.me/3CIgWoT
O U R ∙ P O L I C I E S
https://www.etsy.com/ca/shop/SaraJewelleryShop#policies
M O R E ∙ F R O M ∙ U S
https://www.etsy.com/shop/SaraJewelleryShop
I N S I D E ∙ S C O O P
• IG: https://www.instagram.com/silverjeweler.ca
• FB:https://www.facebook.com/Silverjewelercanada
Thank you so much for visiting and I hope you enjoy shopping with us ♡
✔SILVERJEWELER.CA♡
———————————————-
• All images are copyrighted by SILVERJEWELER.CA All rights reserved •®